Trapped in Hitler's Army, Officer Fritz Hartnagel (1917-2001) wrote to Sophie Scholl (1921-1943) about SS atrocities. With this first-hand information, Scholl, her brother, Hans, and their friends formed the White Rose student opposition in Munich.
Today they are some of the best known figures of the German Resistance during World War II.
Told through letters translated for the first time, With You There Is Light reveals how two remarkable individuals on opposite sides of war inspired one another to act against a murderous regime.
Theirs is also a true love story.
Fritz Hartnagel and Sophie Scholl met as the Nazis took over Germany. Sophie grew up in the girls' Hitler Youth as Fritz graduated as a pilot from the Potsdam Military Academy.
Not a member of the Party, but sworn to allegiance through the new army oath, Officer Hartnagel is sent to war. Sophie begins a religious journey that will influence and inform her growing desire to turn against the Third Reich.
Translated here into English for the first time, Fritz and Sophie wrote to one another for six years. Their correspondence inspired one another to find out and act on the undeniable truth about the Nazi regime.
Armed with first hand information about SS and army atrocities from Fritz, Sophie, her brother and their friends formed the White Rose student resistance at the University of Munich.
Eighteen members strong and growing, this group wrote, produced and distributed five editions of anti-Hitler leaflets, reaching over 16 German and Austrian cities.
Today in Germany the Scholl name is synonymous with freedom.
He told her what he witnessed. What she did with the truth changed history.
A Brief Timeline of Events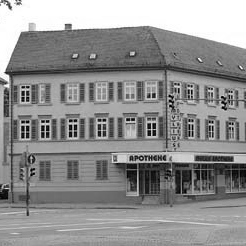 JUNE 1942
The Light of Day
Sophie was attending a lecture at the University of Munich and found a pamphlet under her desk. It read, "Who among us has any conception of the dimensions of shame that will befall us and our children when one day the veil has fallen from our eyes and the most horrible crimes — crimes that infinitely outdistance every human measure — reach light of day?" A conflict instantly took place within her... report this to the Nazi authorities or search for the Truth.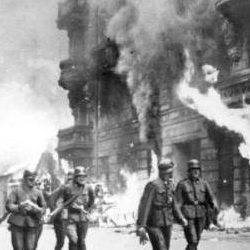 JULY 1942
The Horror of The Russian Front
Four members of the White Rose, including Sophie's brother Hans, were ordered to work as medics on the Russian front for their Summer break. They passed the Warsaw ghetto and were horrified by what they witnessed. And upon arrival in Russia they realized that Germany was actually losing to the Soviets, even thought the Nazis had been telling Germans nothing of the sort. When they returned home, they were now more confident in their goal. The White Rose  began increasing the number of printed pamphlets and increased the spread of its distribution all over Germany.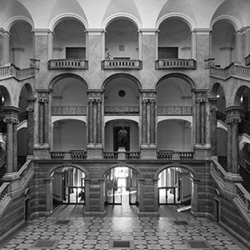 FEBRUARY 1942
Sentenced To Death
Sophie shouted, "Somebody had to make a start!" Interrupting the judge, but was quickly silenced. Still, she continued, "What we said and wrote are what many people are thinking. They just don't dare say it out loud!" Sophie, her brother, and another member of the White Rose were sentenced to death, to be carried out that very day by guillotine. On the back of her indictment, Sophie wrote the word "Freiheit."
Freedom
Alexandra Lehmann is imaginative, eloquent,and has a strong, constructive sensibility. Her long-term project, about German-Christian resistance to Hitler, embodied in the figure of the activist Sophie Scholl, is a model of how the literary and historical visions of experience can be properly blended. Alexandra's book adds much to our collective understanding and wisdom.

Vijay Seshadri
Winner of the Pulitzer Prize in Poetry, 2015
I spent last weekend reading With You There Is Light from cover to cover and was deeply moved by the lives of Sophie Scholl and Fritz Hartnagel and the spiritual journey they shared as they both struggled to be faithful. Alexandra Lehmann has shared an important and complex story with masterful writing that puts flesh and blood on the German Resistance. She has succeeded in making these important historical figures live for us."

Gregg Mast
President.New Brunswick Theological Seminary
Why should we read Lehmann's novel in addition to all the historical research about Sophie Scholl and the White Rose? She accomplished something that academic writing cannot do: Alexandra's writings will appeal to readers' feelings. It takes a gifted writer like Lehmann to create an emotional bridge between those brave people and us.

Roland Dollinger, PhD
Princeton University. Professor of German Studies, Sarah Lawrence College

Credit Card payments are through a secure SSL encrypted payment processed through Stripe. Credit card data is never stored on our servers.