Re-Visiting The White Rose Student Resistance Movement in Munich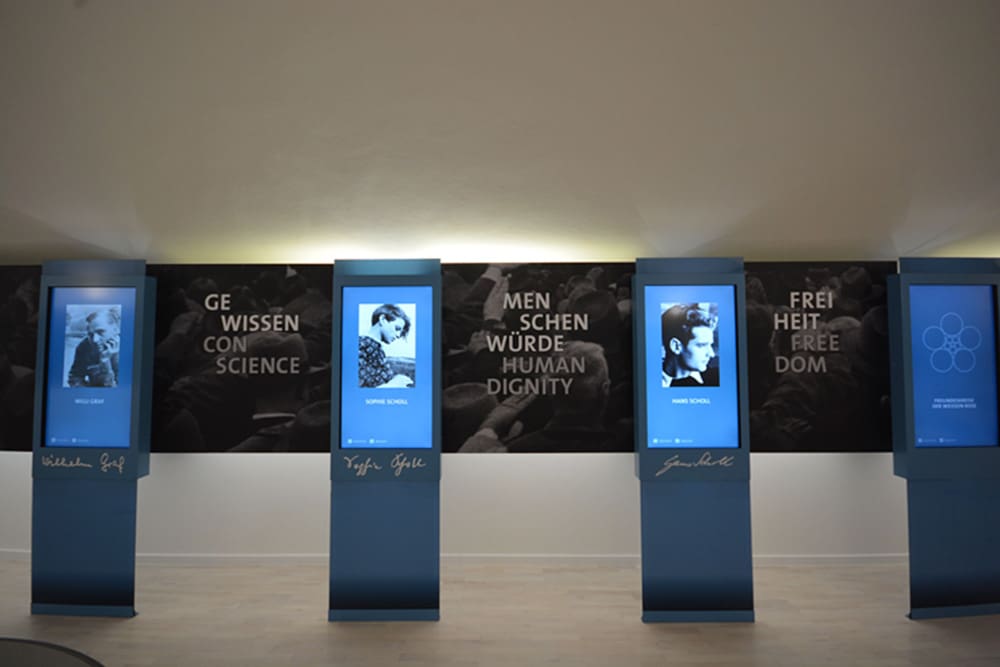 Munich, June 10, 2017. Re-visiting the new installation at the University of Munich (LMU) furthered my commitment to sharing the history of the White Rose student resistance movement. During World War II, siblings Hans and Sophie Scholl, and Alexander Schmorell, began active opposition against Hitler and the Nazi Party. Informed by their eye witness of war crimes in occupied territories and from Captain Hartnagel fighting on both fronts, these students recruited fellow activists and distributed thousands of copies of anti-Hitler leaflets to over sixteen cities before their capture in 1943.
ANY NEW INFORMATION?
By war's end, sixty of these resistors would be either executed or imprisoned for treason against the Third Reich (a new statistic for me). After over ten years of studying and writing about this history, was there anything else for me to learn? Of course. I was pleased to read that Willi Graf's choral group supported the Munich student resistors (the White Rose). I had thought otherwise. Both scholars and those first introduced to these remarkable and important figures will likely benefit from this brand new conception. This exhibition is free and can be easily found in the foyer of the University of Munich.
INTERATIVE, ENGAGING CONTENT
An elegant blue and splendidly lit glass cases guide the visitor through the installation which feels like both a work of art and exhibition. New eyewitness interviews can be watched along with hearing audiotapes from the actual show trials. Notably, all content is in English.  Although it was a German holiday (Pentacost), the exhibition was well-attended on the day I visited. Hinz & Kunst, the agency responsible for this new presentation, has done an excellent job of combining both languages so that it often appears like one. Perhaps this insight comes from someone reasonably fluent in German and English. I couldn't help feeling, however, that words like "freedom" and "human dignity" mean the same thing in all languages and that Hinz & Kunst assisted in this formulation.
Since attracting same age students to this material is obviously its mission, the English translation along with interactive panels makes it entirely possible.
LITERATURE
When I worked on the research for my book, I was struck by Sophie Scholl's intellectual history. Always a rebel, Sophie read books that were banned by the state in 1933. I sought to write her story in a chronological way alongside with the books that she experienced, often together with her best friend, Fritz Hartnagel. Seeing the "Lesetisch" (Reading Table) in the center of the exhibition affirmed my own thinking. If you are truly interested in understanding how a young person said "NO" and became brave enough to stand up against tyranny and injustice, one must read the books she did. In conclusion, this new exhibition states this case plain enough.
SHARE THIS ON FACEBOOK